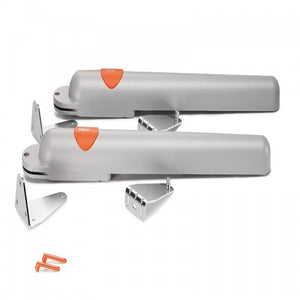 NiceHome ARIA400-2 Double Swing Gate Start Kit
NiceHome complete worm drive-motor kit to automate two-leaf swing gates.
Suitable for gates up to 450kg and a maximum of 4.5 metres.
NiceHome ARIA400-2 Start Kit includes installation manual, 2 x manual release keys and 2 x NiceHome ECCO remotes
Compatible with the NiceHome solar power kit option
Compatible with NiceHome wireless keypad (DS100)
2 year warranty, 24v Italian made, Australian supplier.